A charming outpost of gentile Southern food and décor, Magnolia's surprised me with its creative and top flight cocktails.

 Ambiance: ****1/2

Decor: ****

Service: ****

Cocktails: *****

Overall Rating: 4.5
One of my favorite cities in the world is Charleston.  I can just lose myself forever along the Harbor, and the city's restaurant scene has no peer.  So I'm a sucker for that Southern ascetic and cuisine, affections that–along with whispers of a superb cocktail list–led me to visit Magnolia's on King in Old Town Alexandria.
Good thing I listened, as Magnolia's was one of my favorite cocktail experiences of the year with six standout cocktails.  To a drink, the 13-recipe list takes chances and offers some really daring and interesting flavors.  Mixologist Zachary Faden and bartender Tyler were really great — you get the sense that they wouldn't mind putting their bar spoons down for a few hours just to geek out over esoteric cocktail ingredients, which is a good indicator of cocktail quality.  The upstairs Palm Lounge is where the drinking happens — you can sit at the small, stately bar or find a spot in the beautifully decorated sitting room.  You could tell me I was in downtown Charleston and I would've believed you.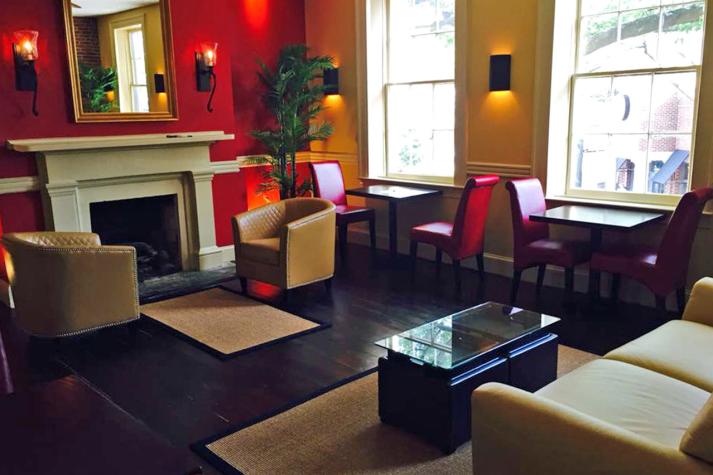 Alright so let's start sipping.  First up was the "Magnolia's Old Fashioned" with rye, pineapple syrup, and cherry and angostura bitters.  Now, and I feel ashamed about this, but I'm not the biggest OF aficionado.  I did enjoy this variant, however, particularly the great pineapple sensations carried in the syrup, which lends the drink a richer, thick taste that carries into an exquisite aftertaste sensation.  Next was my first standout, the sweet and fruity "Bourbon Smash" with Wild Turkey, lemon, blackberry, and rosemary.  I loved this mix which provides a perfect level of fruity sweetness and bourbon heat.  The taste is delightfully balanced and makes superb use of the blackberry syrup, which I don't normally love.  I just admired the way the fruit blends so well with the bourbon's burn as you sip it, very nicely done!
On to the "Bananas Foster" with banana-infused (always a good move) rum, grand marnier, maple syrup, and orange bitters.  I'm an easy mark for banana so this was a standout for me — what a fascinating taste!  I was expecting overly sweet but this was nicely measured, with a heavy banana flavor on the front end joined in the middle with some nice sugar notes.  Loved it. Then we had another standout in the striking "Lavender Royale" with Citadelle gin, elderflower, lavender syrup, lemon, and bubbles.  A great, poppy, and smooth taste, this is a fine gin/citrus mix helped by the elderflower and softened so nicely with the lavender.  The type of drink you could have two or three of on a nice summer afternoon, this was a welcome change of pace on a December evening.
Next up was the grand wintry "PSL" with arrack, flying dog fear pumpkin ale-syrup (!), cream, dandelion and burdock bitters, and muddled clove.  I was excited for this one as a pumpkin fan and the PSL did not let me down.  Appearances are deceiving as you expect a creamy, milkshake type drink and instead get a formidable rum sipper.  The dairy is very subtle and the pumpkin is perfectly even.   I also got a taste of the arrack and gosh darn, that is a fire.  Then I ordered the stately "Pear and Pina" with tequila, pear and ginger-infused cointreau (!), lime, and pineapple syrup.  In my eyes, this is the epitome of a "simple" drink.  While the ingredients aren't wildly fancy, they come together magically, with the tequila bite nicely smoothed and the citrus, tropical sensations are appropriately accented.  The Pear is a standout and was my favorite drink at Magnolia's.
I kept it all-pear with the "Pear and Ginger Sidecar" with courvoisier vsop cognac, pear and ginger infused cointreau, and lemon.  Similar to the Pear and Pina, the cognac adds a twist, turning it harsher and stronger.  The cognac is forward but it all settles into a citrusy and nice mix.  Very strong and very good. Moving on, I ordered the "Tarragon Vesper" with tarragon-infused gin, vodka, and Cocchi Americano.  This was really imaginative as the gin and vodka finish smoothly with the cocchi on the edges.  That flavor combination was clever and I admired the thinking behind it.  Ok drink.
We get a little spicier when I ordered the "Smoke and Sail" with mezcal, linie aquavit, maraschino, and dry vermouth.  You know what you're going to get with this one and it doesn't disappoint; the heat twists intriguingly with the vermouth and aquavit for a spicy and subtly licorice taste.  Not quite my cup of tea, but fine.  I went a little softer with the "Pirate Flip" made of El Dorado and Wray and Nephew rums, lime, honey, mole bitters, and an egg.  I really loved this standout which has this wonderfully cool, velvet sensation from the honey and egg.  Everything clicks superbly as you down it, and it delivers this delicious nutmeg aura and aftertaste.  The thickness is just right.
"The Cure" was up next with monkey shoulder and ardbeg scotches, Domaine De Canton, lemon, and honey.  This drink is similar to the famous penicillin cocktail which I don't enjoy, so this wasn't a favorite of mine.  I did like the ginger, however, and the scotch architecture on the first half of the drink was pretty good.  Not bad, not bad at all.  Then I had the surprising "Winter Sazerac" with nutmeg-infused rye (!), peychaud and pimento bitters, and absinthe rinse.  This was a real standout drink for me precisely because I'm not the biggest sazerac fan, but the simple mix had a real magnetic taste, a great, smooth, and dangerously easy-to-drink earthy-rye taste.  It's a high-content killer though, so caution as you sip!
And as any good college student would do, I saved the jagermeister for last – the "Falling Leaves" with calvados cognac, jagermeister, cardamaro, house-made apple juice, and cinnamon.  I was braced for this one as me and jagermeister have an….uneven history.  But this was surprisingly pleasant and unique.  The second half is colored by the apple juice and cinnamon which smoothes out the STRONG cognac and amaro cut.  A really fascinating conglomeration of hard-hitting alcohol and sweetness, this comes in like a lion and leaves like a lamb. Oh, and look at how soft it is!