For this entry's Sherlock-themed drink, I found the "Sherlock and Watson" cocktail via the Food52 blog and the Essex Bar in Seattle.  I thought this was a very interesting recipe that used ingredients I never played with, so I made some Earl Grey syrup and bought Cardamom Bitters via Amazon.  I wasn't able to buy St. George Single Malt as recommended by the creators, but hopefully I got close enough.
2 ounces American single-malt scotch or Highland scotch
1/2 ounce earl grey syrup
1/2 ounce freshly squeezed lemon juice
2 dashes Scrappy's cardamom bitters
The Early Grey syrup was relatively straight forward, basically make a honey syrup with a bag of tea dumped in.  One trick was how hard it was to strain, those little tea flakes are hard to keep out!  I used a few different strainers in tandem to get a purer mix.
The taste was very complex, starting hard but levels out as you move though.  The flavors blend well and you can really taste the cardamom, while the tea hits hard at the end.  It was a very very interesting drink — probably not for easy drinking or popular consumption, it's best enjoyed very slowly and with some heavy contemplation as you go through.  A thinking man's (or woman's) drink, which makes sense, given its name.
One can feel the weather here in DC turning quickly, so I decided to take advantage of the waning warmth and brought the drinking and reading outside.  I cracked open my Holmes collection and moved onto the "The Red-Headed League," a Holmes story that is as whimsical as its title suggests.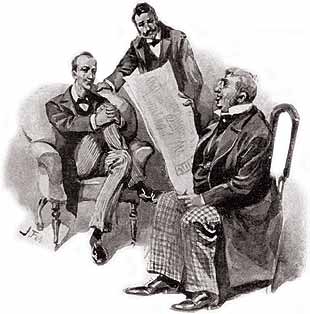 I remember reading this story as a child and being so envious of the red-haired client who secures a job writing an encyclopedia in long hand, which seemed like easy money to me.  This is one of the more whimsical Holmes stories I can remember, with even Sherlock describing the circumstances–involving a horde of ginger haired Londoners–as "off the beaten track."  Holmes and Watson literally guffaw throughout the mystery, which is fairly easy to solve even for a reader with one strong cocktail down.  Lots of great Holmes quote in this one such as "a three pipe problem" and "my life is spent in one long effort to escape from the commonplaces of existence."  This is a fun and beautifully well-written story that moves fast and gives you some bright, happy insights into Holmes and Watson.  And, as are many things, it's much more fun to read after some scotch.